You're writing a blog post when an email comes in. You check that email, leaving the blog post half-written. Messenger pops up in the corner. A colleague is sharing a link she thinks might be great for the company Facebook page. You follow the link to decide if she's right. When you finally return to the original blog post, you've forgotten the point you were trying to make.
The digital world was supposed to make it easier for us to multitask. So what happened?
Researchers have long known that multitasking is a myth.
Productivity expert Dave Crenshaw says that instead of completing multiple tasks simultaneously, what we actually do is "switchtask" or flip back and forth between two or three or more tasks. The impact on our work is not a positive one. Switchtasking divides our attention and prevents us from doing our best work.
What does this have to do with digital marketing?
Many of us suffer from a corporate version of the multitasking myth when it comes to our digital marketing strategy. We're so caught up in trying to do everything, that we don't do any digital marketing task well.
Facebook, Twitter, Instagram, Pinterest, Snapchat, Email, Blogs, not to mention tools like Hubspot, Exacttarget, and Marketo, are all out there demanding to be used. If you don't use every single one of them you're missing out on potential customers, right?
I hate to break this to you: you're already missing out on customers. Customers don't respond to content and advertising, they respond to great content and advertising. If you're stretching yourself so thin that you're consistently putting out mediocre content, you're already failing.
So what's the alternative? How can you stop the switchtasking cycle and get the most out of your digital marketing efforts.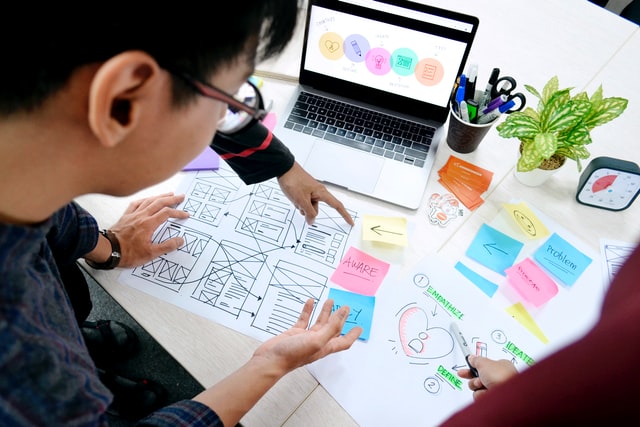 Do less to do more
The solution is actually pretty simple. Stop trying to do everything and focus on the one or two digital marketing tactics that really give you value for effort. Once you've established a process for those, you can branch out to something new.
Deciding which strategy to focus on first can be a challenge, especially because ROI for Digital Marketing Strategies is notoriously difficult to measure. As Jayson DeMers Founder and CEO of AudienceBloom explained in Inc.:
"This is partly due to the fact that many forms of "return" are imprecise, such as brand reputation, credibility, trust, and visibility."
While identifying the highest-performing tactics isn't easy, Smart Insights made an attempt with its reader survey.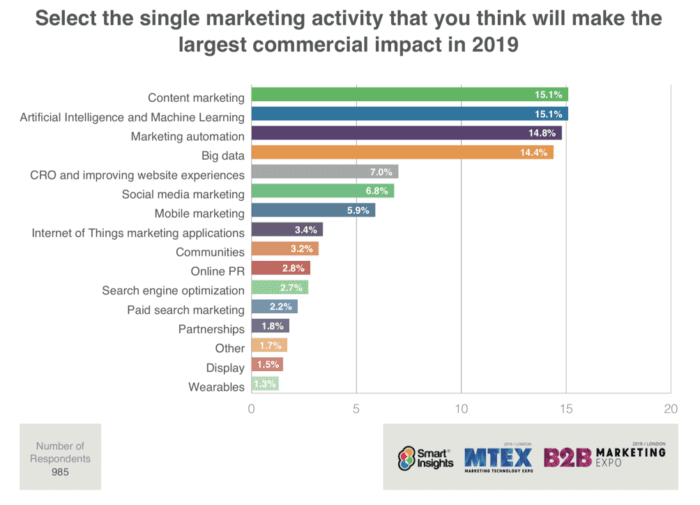 Content marketing beat out other techniques as it has done for the last five years. Only AI and machine learning came close. According to Demand Metric, content marketing generates approximately 3 times as many leads as traditional marketing per dollar spent. And 70% of consumers say they would rather learn about a company through articles over advertisements.
So content marketing delivers the best ROI. But even that isn't really an answer.
Content Marketing isn't one tactic. It's a cluster of several tactics that work together, ideally in a coherent strategy. Content marketing might include blogs, case studies, videos and social media posts. But only one of them delivers 67% more leads for companies that have it versus those without. Which one?
The answer is blogging.
Blogging: the foundation of your Digital Marketing Strategy
Let me repeat that Demand Metric statistic: On average, companies with a blog produce 67% more leads per month than those without.
Imagine what you would do with 67% more leads.
Blogs help drive traffic to your site by giving you more indexed pages. They give your fans something to share on social media. They help convert traffic into leads. One of the best things about blogs is that the content can keep working for you, basically forever.
While the average lifespan of a piece of social media content can range from a few minutes to a few hours, evergreen blog posts get traffic days, months and years after they were first posted. In fact, I originally wrote this blog post in 2017. In 2020, I updated it with some fresher stats and new images. It took me about 15 minutes.
On the Hubspot blog, 70% of their monthly traffic comes from blog posts that weren't published in the current month.
So if you're going to start with just one digital marketing tactic, a blog is the tactic of choice. Once you have some strong blog posts in place you have lots of fodder for your social media sites and other digital marketing platforms. You can pull infographics and relevant data from posts to share on your social media page. Blog posts also make great foundations for marketing emails.
How to write exceptional blog posts
Experts like Neil Patel and Brian Clark have written extensively on how to create exceptional blog posts. You could spend months reading everything they and other experts have to say. But who has that kind of time?
I'll condense it for you. An exceptional blog post is like a snake: long, evergreen, beautiful.
1. An exceptional blog post is long-form
Curata found that long-form content significantly outperforms short form content, generating 9 times more leads and 8 times more page views.
And they're not the only ones. Marketing influencers like Neil Patel and companies like WordStream also swear by it. As with most things on the internet, no two experts agree on exactly how long a long-form post is, but the general consensus seems to be more than 1,000 words.
2. An exceptional blog post is evergreen
Evergreen content remains useful over time. Testimonials, tutorials, and history-of articles are all examples of evergreen content.
In fact, the post you're reading right now is evergreen, because the concepts I'm describing will be as useful a year from now as they are today. They don't rely on a particular platform or fad to make them relevant.
Posts that focus on current events or the latest trend might help drive traffic to your site today, but they're unlikely to be high-performers a year from now.
3. An exceptional blog post is beautiful
Graphics make good blog posts great. Ignore this at your peril. Total views for articles with relevant images increased by 94% over those without according to a Skyward study.
So make sure you include some stunning visuals. These can be photos, screenshots, graphs or infographics, anything that helps the reader better understand and connect with the text.
So get going already.
Now that you have the keys to escape the multitasking trap, it's time to get started. For help maximizing your digital marketing with exceptional blog posts contact me today.